Aziz Sarr – Creative Director & Marketing
Aziz Sarr has been working as an organizer and DJ for more than 10 years to spread the modern sound of Africa in Germany. After completing his Bachelor & Master's degree in Marketing and five years of working as an event manager, he founded the Afro Heat party series in 2011, which became known as the first commercially successful event in Germany. In 2016 he founded the label Freak de l'Afrique, under which he launched many successful party series such as  Cirque de l'Afrique, The Afro House Xperience, Black Paper or Bantus Diary. He also curated events such as the Red Bull Music Festival and the popular Generation Afrobeats Truck at the Carnival of Cultures, as well as various events in Europe and Africa. As a DJ, he travels worldwide under the stage name Wallizz. He has also successfully made a name for himself in the Afro House area as DJ Walter Griot.
Katia de Almeida aka UKAI -Costumes & stage design
Ukai Ndame aka Katia was born in Angola, lived in South Africa and came to Germany when she was 13. At the age of 17 she started her own business in the fashion world. She moved to Berlin in 2009 to study international business. The time she lived in Berlin completely changed Ukai's life. She became more and more interested in music until she became part of the Freak de l'Afrique sound system in 2011. At Freak de l'Afrique she is responsible for graphic elements, costumes & stage design and she plays mainly house music as a DJ.
Kevin Borgböhmer – Event Manager
Born and raised in Bonn-Bad Godesberg, the son of a Cameroonian and a German has lived in Germany's capital since 2010. After studying in Maastricht and Berlin in the field of international cooperation and disaster management, as well as working on projects in cooperation with the UN and GIZ in Peru and Germany, he developed himself into an expert in culture and event management as well as funding acquisition. As a freelancer, he advises creative people, clubs and companies where and how they can get funding and supports them in their implementation. His passion is innovative project ideas from the Afro-German community. In addition, he is active as a founder for superfoods from Africa and tries to promote organic, sustainable agriculture and to establish fair trade between the African continent and Germany.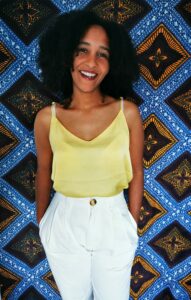 Sarah Kurnitzki – Academic Advisor / Scientific Support
Sarah Kurnitzki, a qualified pedagogue, is doing her doctorate at Bielefeld University and is active in teacher training. She has her teaching and research interests in Criticism of Racism & Anti-discrimination Education, anti-black racism, inclusion, educational disadvantage, constructions of difference and migration education. As a research assistant in the context of inclusion, she is also involved in conference organizations and in scientific projects and publications. In addition, she has been working and committed in various contexts for 15 years, including in the areas of human rights education, diversity, feminism, empowerment, etc. and has supported a project for street children in Bamako / Mali. She also co-founded the first Terre des Hommes university group at the university Bielefeld.
Farai von Pentz – Finances & Texts
Farai has lived in Berlin for over 10 years. She spent her childhood in Zimbabwe and moved to Germany as a teenager. Shaped by her Zimbabwean-German background, she specialized in post- and decolonial issues during her studies. She is co-founder of the first black university group at the University of Potsdam and works, among other things, as a speaker for criticism of racism at the AWO. As Assistant Coordinator in the Graduate School "minor cosmopolitanisms" and Academic Assistant in the department "Anglophone Literatures and Cultures outside of GB and the US", Farai was able to participate in the organization, realization and implementation of various festivals, conferences, events, publications and projects on post-colonial topics.
Aida Binger – Public Relations
Born in Berlin and of African origin, she has always dealt a lot with musical styles from the African continent. As a musician, she quickly realized that she was more than talent-free in both music-making and dance. So she decided to become the listener and the watcher. In her studies of ethnology and African studies, the focus was on works on popular musical styles and interpreters in connection with social processes. Aida (as she is called by most), worked in the AMA (African Music Archive at Johannes Gutenberg University), curated the Black Atlantica stage from the Carnival of Cultures in Berlin and organized various other events. Her focus is on the impact art and music have on people. Not everyone can be a dancer or singer. There must be those who listen, watch and enjoy.