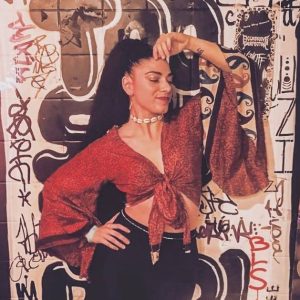 Roberta Pezzaioli was born in Italy. Her stage name is Beta Kuya.
She studied at the ModuloFactory Dance Academy in Milan, where she graduated as a dancer, dance teacher and choreographer in 2013.
She worked as a dance performer with various dance companies in Asia and Europe. She has also participated in many television and video productions, theater and show performances, fashion shows, events and open air festivals.
Through her many years of experience as a dancer, she has developed her individual style from the areas of street dance, hip-hop, latin dance and afro dance.
Her passion for dance and the styles it characteristically reflect are Latin American and African dances. It is inspired by the attitude and vibe that music styles such as Kuduro, Afrohouse and Coupé Decalé convey.